My Investment Portfolio 2023
Apologies for the ridiculously long absence, so it's probably about time I posted something. Let's start with an investment portfolio asset allocation & performance update.
Pension (Defined Benefit / Final Salary)
I was lucky enough to pay into a final salary pension for 12 years.  I've valued this by comparing it to the cost of buying an inflation linked annuity that would match the income as detailed on the last statement received. Note how much this has reduced as a percentage of the portfolio since the last update (charts below). This is partly because annuity rates have increased (so the amount needed to generate a fixed return has reduced) and partly because the rest of the portfolio has grown while I am no longer contributing to this pension.
Pension (Defined Contribution)
This is my current workplace pension.  Altogether 31% of my salary is contributed with 10% being the company contribution.  Since the last update, I've moved out of the (more expensive) default fund into a global tracker (95%) and a bond fund (5%)
Overall, although returns changed in the meantime, they're back to the same figure as when last checked.
2021 IRR: 7%
2023 IRR: 7%
Stocks & Shares ISA
Shares
VANGUARD FUNDS PLC FTSE ALL-WORLD UCITS ETF GB (VWRL)
HSBC FTSE ALL-WORLD INDEX C Acc
VANGUARD FTSE EM MKTS ETF
Bonds
VANGUARD LIFESTRAT VANGUARD LIFEST 20 EQ A GB (VVLFSE)
Some simplification since last update - the two separate bond funds have been replaced by Vanguard Lifestrategy 20 and at the same time, bond holdings were increased. With hindsight this was perfectly terrible timing, however, no sleep was lost and returns are still respectable despite it damping performance. The UK Share Index fund has been sold and funds moved into the global tracker. The only simplification left is to sell the Emerging Markets fund and move into the global tracker. The ISA is held with two separate providers (to provide diversification) and I'm currently in the middle of changing providers to reduce costs so once this is complete, it will be done.
2021 IRR: 9.5%
2023 IRR: 7.4%
Cash
This is a combination of a cash ISA, current accounts a regular saver account and some higher interest savings accounts. I've been holding onto cash for an upcoming life change, so once this is sorted, the whole years ISA allowance will be put into the S&S ISA.
Peer To Peer
All my peer-peer providers are now shutting or have shut down. A tiny amount of funds remain which are slowly being returned as loans are paid off.
Cryptocurrencies
Since the last update, further purchases have been made. We're now in the bear market part of the crypto cycle. During this downturn I've sold a few minor alt-coin positions and moved these to Bitcoin, but have not otherwise sold. In fact I purchased some more Bitcoin at an almost perfect low point (so far). The additional purchases explain the percentage increase since 2021 despite the downturn.
2021 IRR: 10.5%
2022 IRR: -20.74%
Stocks & Shares (non ISA)
None - all of these were sold and transferred to the S&S ISA.
Gold
I own some physical gold after a friend offered it to me many years ago.  If a zombie apocalypse occurs, maybe I'll be able to trade gold filings for food!
Summary - Chart & Table Time
I'm experimenting with a pie chart this time and have produced a 2021 version to enable comparison.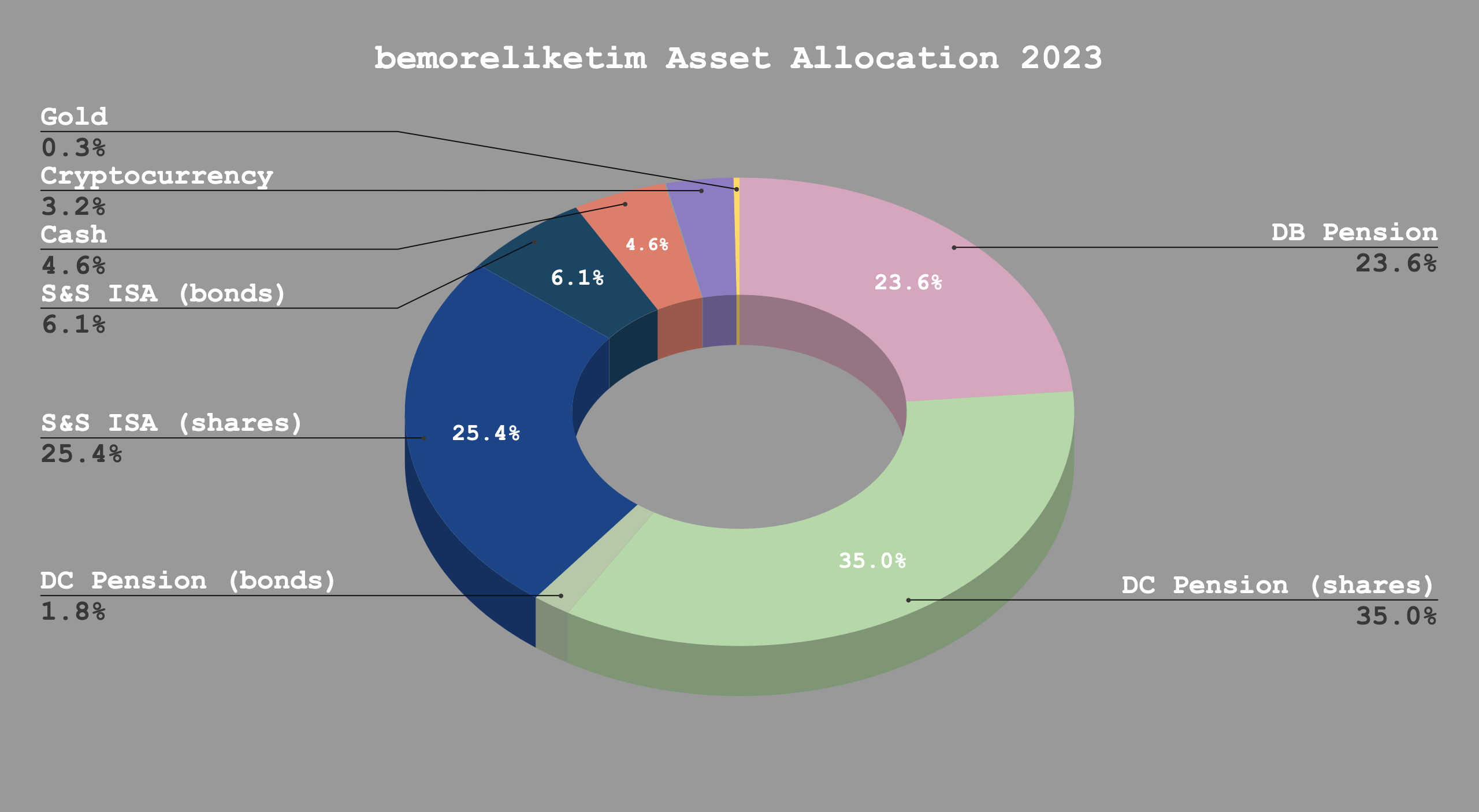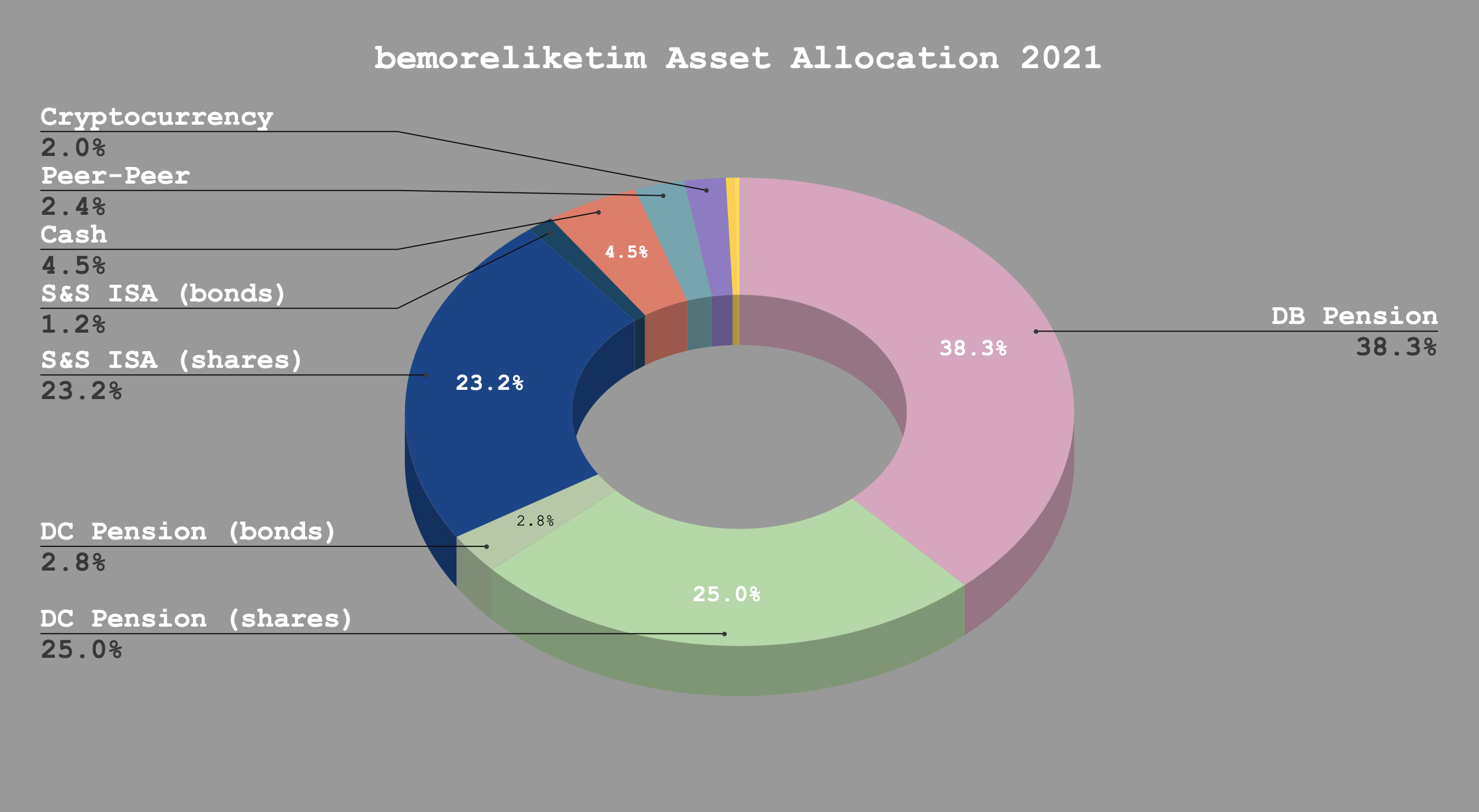 Here is a handy table comparing IRR from 2021:
| Investment | 2021 IRR | 2023 IRR |
| --- | --- | --- |
| Pension (DC) | 7% | 7% |
| S&S ISA | 9.5% | 7.4% |
| Cryptocurrencies | 10.5% | -20.4% |
Changes?
I've got slightly too many bonds in my S&S ISA. Honestly, this is a result of not having a clear target allocation (I know, I know . . ). To avoid too much faffing, I'm probably just going to continue to purchase more global tracker funds reducing the %age of bonds held.
I'm also considering changing to the new Invesco global tracker funds to shave some costs off.